Thanks to everyone who helped us raise almost $4300.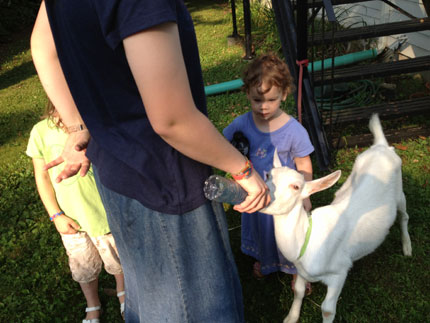 This was Buddy's first year at the Marketplace; he's a friendlier size than his predecessor, Frisky.
Special thanks to Earl Phillips and the Eureka Grange for the use of their tent; to Albreada Refuse and Sweeping for their donation of the dumpster for the week; to Pastor Wes and the Bakerville Methodist Church for the use of their building and tables; and to Electric Motion for the use of their tables.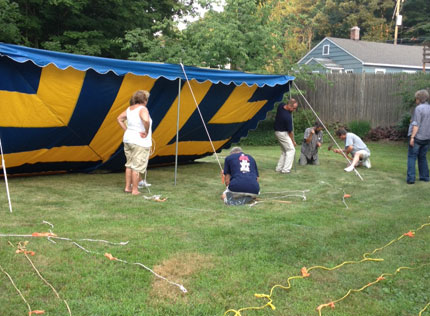 Thanks to all our volunteers, who set up, cleaned up, sat in the sun, smiled, hauled boxes and tables and tents, sweated, baked, put up posters and signs, posted on Facebook, counted money, sold tickets, mowed, made phone calls, kept track, and kept smiling.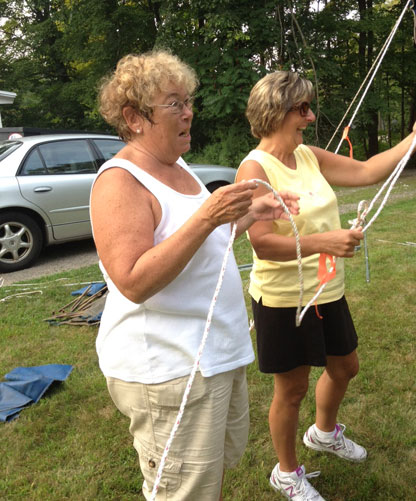 Thanks to volunteers from the Friends (and honorary Friends), in alphabetical order:
Joan Auclair
Paulina Auclair
Patty Cerruto
Rick Goulet
Hank Fitzgerald
Pam Fitzgerald
Carole Korzynski
Bob Murphy
Elaine Murphy
RJ Murphy & friend
Bob Pretak
Nancy Pretak
Bill Reardon
Deb Reardon
Chris Smith
Pat Smith
Kathy White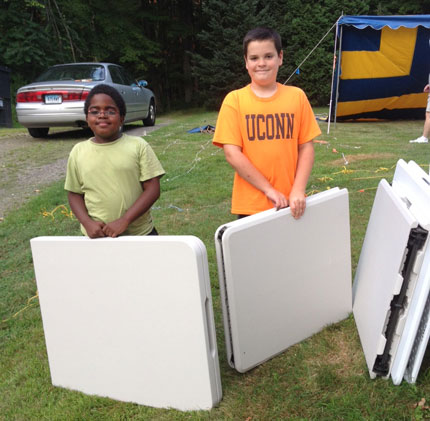 And from the Board of Directors:
Neal Yates
Kathy Kinane
Elaine Carmelich
Brett Brunetti
Dianne Litchfield
Tina Demo
Dan Dickinson
Arnie Goldstein
Linda Hull
Special helpers with the teacup auction:
Mary Cerruto
Barbara Goff
Amanda Nygren
Robin Ryan
Thanks to all our donors. Feel free to thank them when you see them, too, and patronize the businesses.
Applebee's
Joan Auclair
Paulina Auclair
Bakerville Package Store
Bantam Cinema
Lisa Bequillard
Blue Fox Run
Book Club for Adults
Susan Bristol Brewster
Brick & Stone Expressions of New England
Cerruto Family
Mary Cerruto

(continued below the picture)

Connecticut's Beardsley Zoo
The Cork Fine Wines & Spirits
The Cutting Corner
Dairy Queen
Elaine's Salon & Spa-aah
Essex Steam Train and Riverboat
Barbara Goff
Head Shoppe
Hither & Yarn
Home Depot
Infinity Hall
Lou Helt

(continued below the picture)

CeCe Jenkins
Jacqueline Kane
Jerram Winery
KidCity Museum
Lake Compounce
Dan LaPlante
Julie LaSata
Lime Rock Park
Marandino's
Robert Mellins

(continued below the picture)


Mohawk Mountain
Mark Twain House and Museum
New Britain Museum of American Art
New Hartford Wine and Beverage
New Hartford Recreation
Newman's Own
The Nygren Family

(continued below the picture)


Passiflora
Peddlers' Junction
Platinum Car Wash
Pizza Palace
Quassy Amusement Park
R & B Sports World
Radwick's Coffee & Sandwich
Rae Otlowski

(continued below the picture)

Roaring Brook Nature Center
Seven Angels Theatre
ShopRite of Canton
Six Flags
Ski Sundown
Clark and Chris Slate
Betty Stoutenberg

(continued below the picture)

Valley Sports Center
Village Motors
WalMart
Warner Theatre
Kathy White
Winsted Feed & Supply
Yale Peabody Museum of Natural History
Jennifer Zenuh, Avon Products