Did you hear them?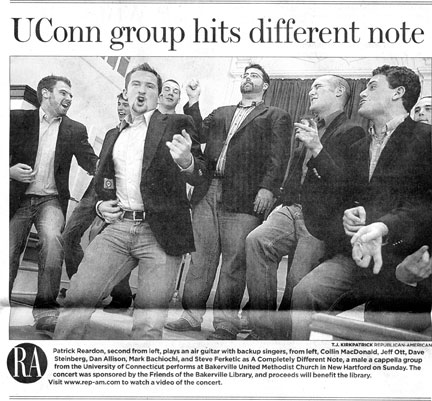 Here's what the Republican-American caption (above) says:
"Patrick Reardon, second from left, plays an air guitar with backup singers, from left, Collin MacDonald, Jeff Ott, Dave Steinberg, Dan Allison, Mark Bachiochi, and Steve Ferketic as A Completely Different Note, a male a cappella group from the University of Connecticut, performs at Bakerville United Methodist Church in New Hartford on Sunday. The concert was sponsored by the Friends of the Bakerville Library, and proceeds will benefit the library...."
And someone has posted two of their songs from our concert in 2007 on YouTube: here and here
"Wow, you listen to those kids up there, and you think, the country's going to be all right."

—audience member
Thanks to the Friends of the Bakerville Library for all their hard work making sure this concert happened.
Thanks to the talented members of CDN for reliably entertaining us again.
Thanks to Roxanne Carroll for the lovely reception flowers.
Thanks to Mary Misiorski at the Bakerville Church who patiently helped with the space arrangements.
And thanks to everyone else who put up posters, sold tickets, and came to hear!