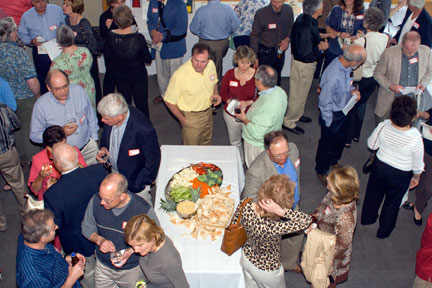 The latest figures show that we cleared more than $13,100 at the May 9th murder mystery.
More importantly, everyone (about 150 people) had a great time. And it turned out that Chris Jones was (sort of) murdered, Blake Hall was a Chippendale's dancer, and Barbara Goff was the murderer. Now, if you had known that, you would have attended.
Please look through this list of sponsors and donors, and make sure you patronize
the businesses and thank the private people—supporting libraries is important work.
Photos courtesy Phil Worley. Then continue scrolling for the rest of the thank-you list (it used to be on the home page) and photos.
Sponsors
Collinsville Savings Society
The First National Bank of Litchfield
Northwest Community Bank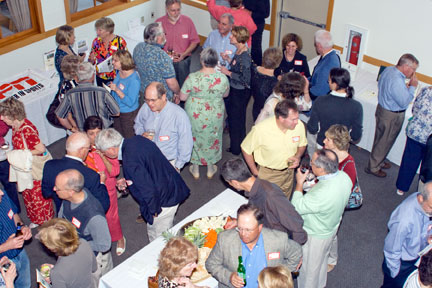 Donors
1847 House Antiques (Bobbie Krohner)
Ann and Trav Auburn
Joan Auclair
Anne Bailey and Betty Palmer
Bangle & Clutch
Anita and Bill Baxter
John and Peggy Budny, Summertime Sno-Balls
Burdick Road Orchard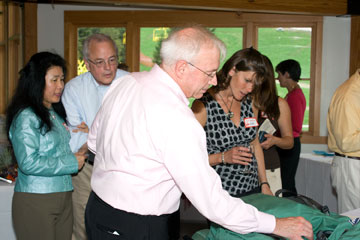 Iliana Bussell, Buttercup Confections
Tim Calder, Personal Best Fitness Training
Corrie Chambrello
David and Ellen Childs
Paul Cryan, Paul Cryan Photography
Corey Deloy
Denise and Michael Devins
Energy Fitness
ESPN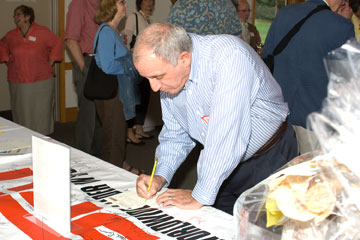 Farmington Woods
Flatbread Pizza
Furniture Emporium
Nancy and Murray Gibson
Mary Ann Gunning, Chapin Park Bed & Breakfast
Sue and Blake Hall
Hair by Design
Hartford Stage
Hartford Symphony Orchestra
The Head Shoppe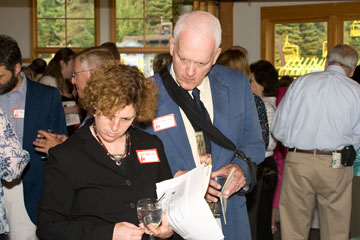 Peter Humphrey
Grace Hvasta-Petrarca, Good for You Girls
Infinity Music Hall
International Skating Center of Connecticut in Simsbury
Jump Zone
Kaoud Brothers Oriental Rugs
Klebe Oil Company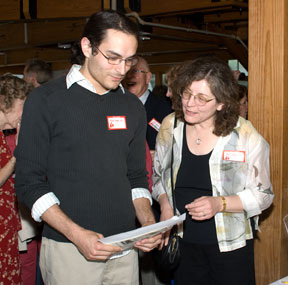 Bruce Komarow, DMD
Lake Compounce
Main Stream Canoes and Kayaks
John and Jennifer McCormick
Maria Moore, NewHartfordPlus!
New Britain Museum of American Art
New England Air Museum
New Hartford Parks and Recreation Department
New Hartford Wine & Beverage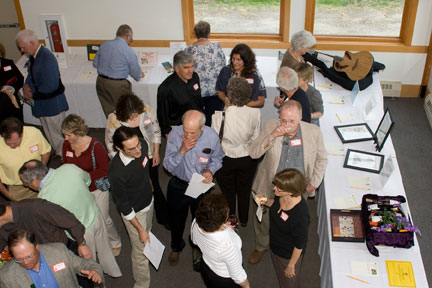 Stewart O'Nan
Kevin Osborne
Ovation Instruments
Passiflora
Pinewoods Racquet Club
Portobello Ristorante and Pizzeria
Price Chopper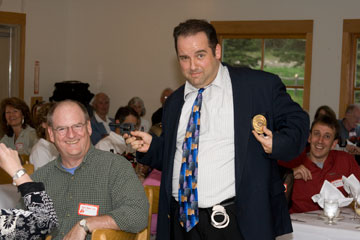 Linda Pulford, Farmington Valley Organizing
Norma Richmond
Riverside Nursery
Sally and David Rosengren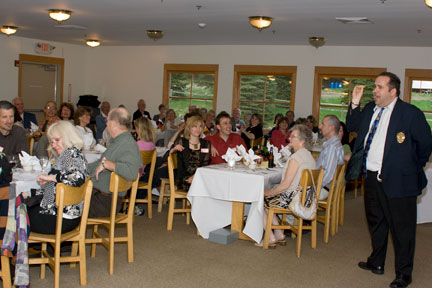 Silo Hunt Hill Farm Trust
Simplicity Hair Care
Six Flags New England
Ski Sundown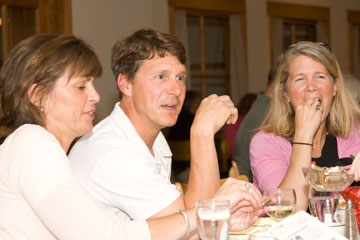 Laura Sundquist, Sage Financial Design
Guy and Lee Tangarone
Thomas Hooker Brewery
Thomaston Opera House
Tim Scull, Canton Clay Works
La Trattoria
Warner Theatre
Torrington Savings Bank
Phyllis and Dale Webb, The Magic Fluke Co., LLC
WFSB
Kathy White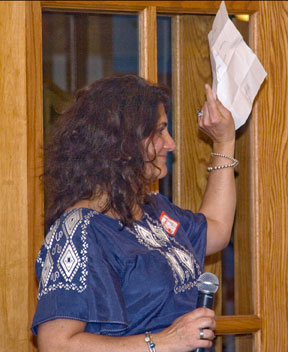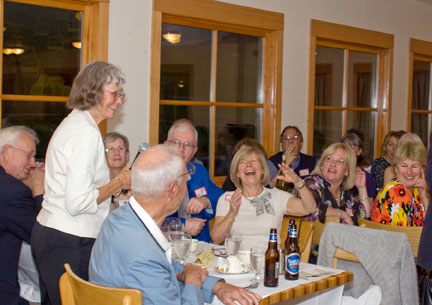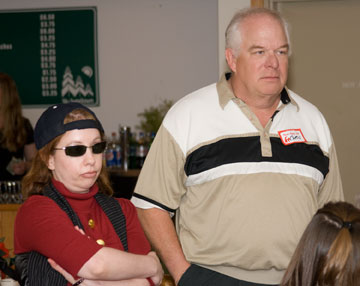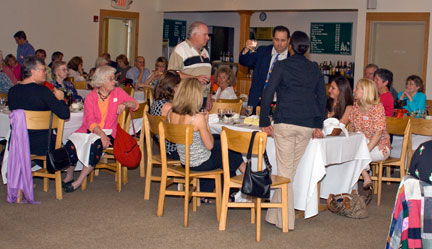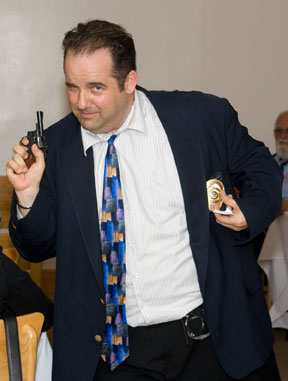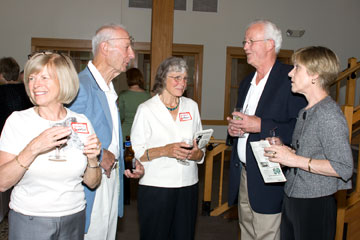 Something we heard over and over during the evening and afterwards was that guests saw people they hadn't seen for years—one side benefit of having both the town libraries join forces.
The operative words were cheerful (participants willing to do unexpected things, such as dancing and public speaking) and generous (both donors and bidders).
Thanks to the entire committee, from both libraries, who worked very hard and very well together:
Lee Tangarone
Milissa Woodward
Kathy Worley
Joan Auclair
Kathy White
Denise Devins
Deb Reardon
Mary Ann Gunning
Paulina Auclair
Allison Kimmerle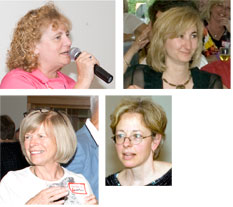 The steering committee, enjoying themselves after a few months' very hard work.
Thanks, of course, to our generous sponsors: Collinsville Savings Society, The First National Bank of Litchfield, and Northwest Community Bank.
Thanks also to our partners: Ski Sundown, Chatterley's, MurderMystery.com, and Goulet Printing (379-0793).
And more thanks, to some of the people who helped along the way:
Sue Krohner and Phyllis Webb, for getting auction donations;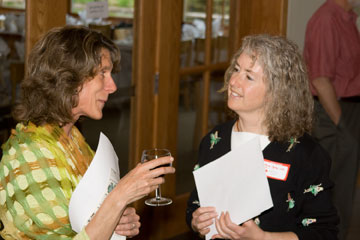 Nell Roberts and Josh, Ben, and Sam Webb, for helping staple and fold programs;

Rick Goulet, for helping with signs;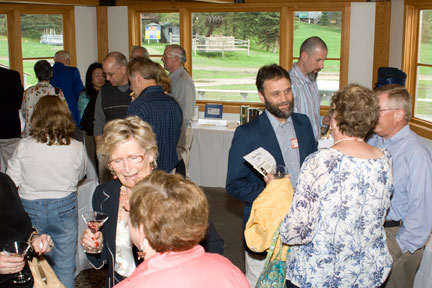 Mike Devins and Guy Tangarone, for building the bid sheet board, and for moving it around between the two libraries (along with Adam Devins);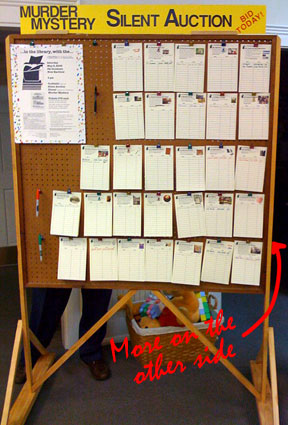 Chris Jones, for being the murder victim;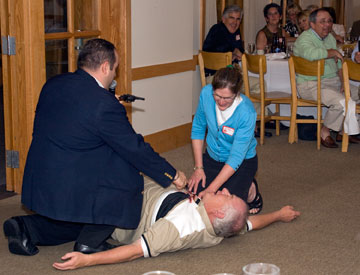 Blake Hall, for being a closet Chippendale's dancer;
Barbara Goff, for being a surprising murderer;

Silas Kinsey, Guy Tangarone again, Blake Hall again, Tom Villanova, and Doug Roth, for being not-so-closet, on-the-spot Chippendale's dancers;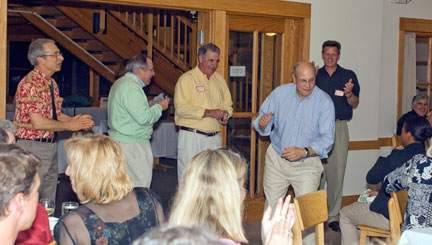 Mary Lee Dunn, for going above and beyond the call to auction off a Queen of Sheba cake and a St. Julia prayer candle, and Sally O'Neill, for contributing to that effort on the spot;
Phil Worley, for taking time out from enjoying the event to shoot photos.